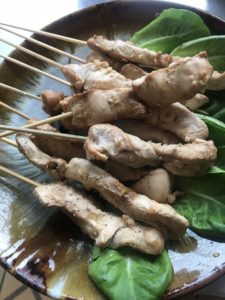 I made this dish in Seattle for our picnic on Lake Washington. It's easy to prepare in advance, and it tastes good either warm or cold. It's also a good go-to recipe for school pot-lucks or picnics.
Ingredients
1½ pounds chicken breast tenders (you can also cut boneless, skinless chicken breasts into strips)
1 onion, chopped
3 cloves of garlic, minced
2½ tablespoons of soy sauce
1 tablespoon of fish sauce
Juice from 1 large lime (or 2 small limes)
Black pepper to taste
Bamboo skewers are optional
Combine all ingredients except the chicken in a plastic Ziploc bag and give it a good shake to mix everything up.
Add the chicken, shake it again, and let it marinate for at least 2 hours or overnight. I seal the bag and put it in a rimmed baking sheet in the fridge so the marinade is evenly distributed, and just in case the bag starts to leak.
If you are putting the chicken on bamboo skewers, soak them in cold water for at least 20 minutes. Then put the chicken strips onto the skewers.
Preheat your broiler and broil the chicken until it is cooked through to an internal temperature of 165°F (approximately 7-10 minutes). Alternatively, you can cook these on the grill.