It all began when Kathleen Turner wanted to try my apple pie. When the star of Serial Mom asks for a slice of your pie, you oblige.  Ms. Turner was in New Haven for Long Wharf Theatre's 2012 production of The Killing of Sister George, and my husband and I invited the entire cast, stage management team, and director over for a home-cooked meal.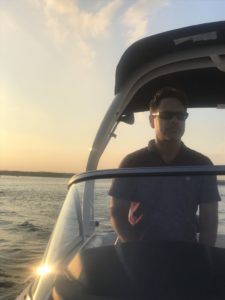 Thus began a tradition of welcoming Long Wharf's visiting artists to New Haven with meals in our home.  We also host the staff and board of directors for an annual season kickoff party, and we donate an invitation to one of the cast dinners to Long Wharf as a gala auction item. 
This year, we decided to mix it up and donated a boat ride. We served dinner on the water, and our guests sipped wine and enjoyed the views.  It was one of the most successful auction items at the gala (which was good for the theater), and we got to drive a boat (which was fun for us).
Of course, we always go the extra mile- nautical or otherwise-for Long Wharf.  My husband has devoted 11 years of his career to the theater and, when we first moved to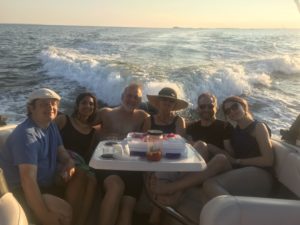 Connecticut, I was a member of the production staff—those are the folks who work behind the scenes to make all the magic happen.  I left Long Wharf Theatre during the difficult, uncertain times following Doug Hughes's sudden and unexpected departure.  I eventually went to law school, but our family still has a deep connection and devotion to Long Wharf and its mission.
Businesspeople entertain clients at country clubs, social clubs, and sporting events- why not use your boat club membership for business entertaining?  In my humble opinion, it's much more fun.
Special thanks to Carefree Boat Club for helping us make this year's Long Wharf Theatre auction item a success.