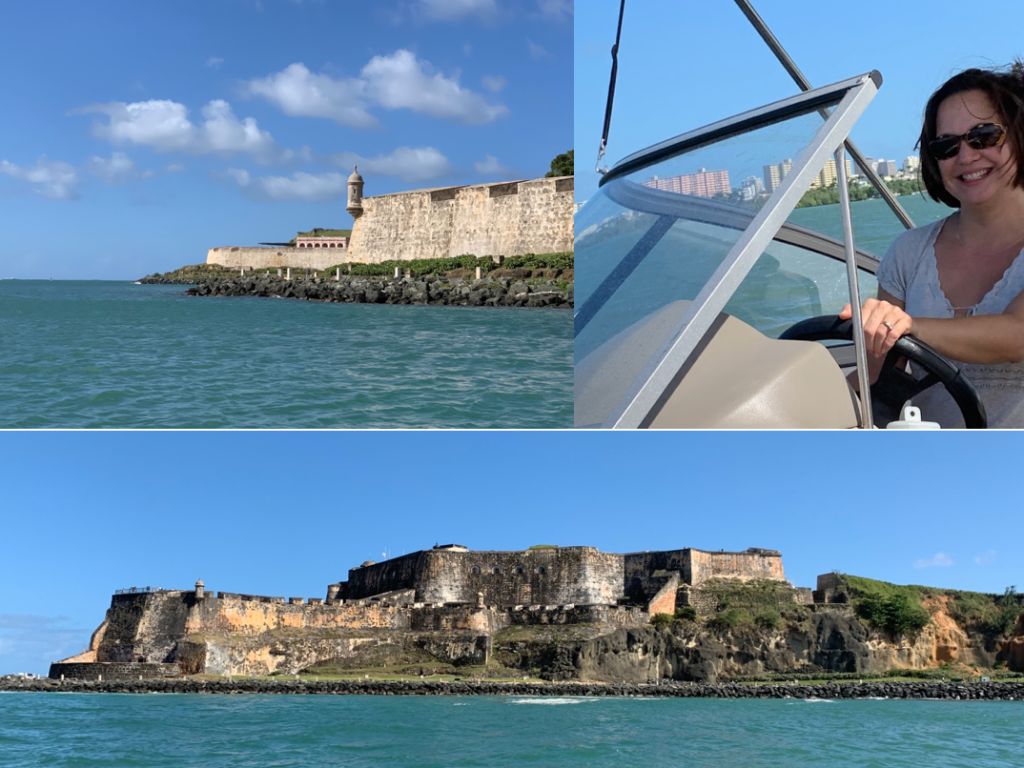 When a friend suggested Puerto Rico as a vacation destination, I balked at first. After hearing about the island's financial woes and the devastation wrought by hurricane Maria in 2017, I worried about what we'd find. But after reading multiple recent good reviews of hotels on Trip Advisor and hearing Lin Manuel Miranda's entreaties to support the island's economy, I was intrigued. The quick 3.5 hour flight from New York or Connecticut (and that we could avoid the headaches of passing through immigration and changing currency) cinched the deal.

Puerto Rico did not disappoint. There still is hurricane damage, for sure- on the way home from a rainforest tour, we passed row after row of dilapidated structures, mostly consisting of modest no-longer-habitable homes. In contrast, the touristy Condado beach neighborhood and Old San Juan have been fully restored, and they offer plenty of activities and food options for visitors. I hope that our tourist dollars contributed to the gargantuan task of getting at least some local families back on their feet.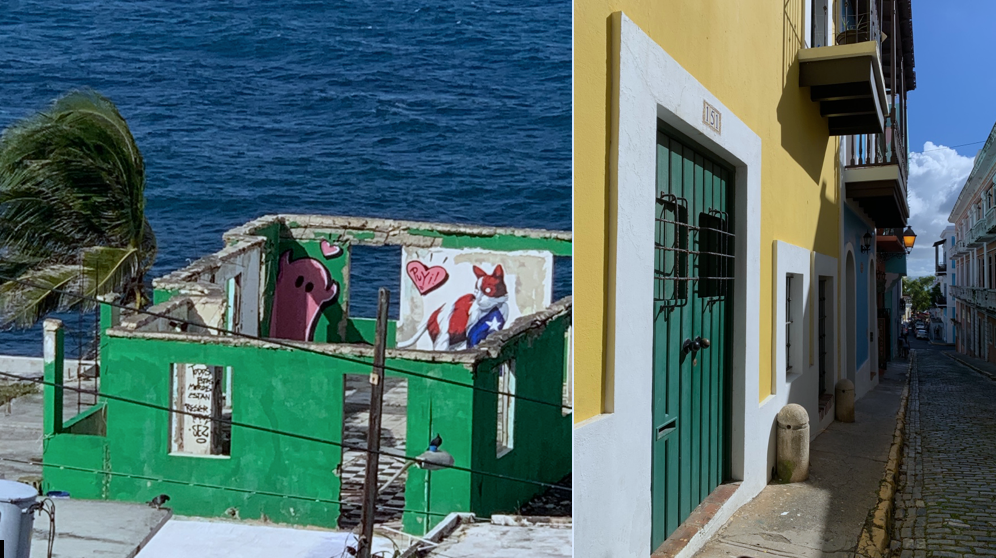 Activities:
Boating was at the top of my list of must-do activities—even if I visit the landlocked desert, I'd bet that I could work a boat into the trip somehow. Luckily, San Juan had plenty of boat-centered recreational options. We rented a snappy red Yamaha jet boat- aptly named "Hot Tamale"- from San Juan Boat Rentals. After visiting Castillo San Felipe del Morro on land, we got to see it as the 17th century Spanish sea captains did. Instead of scanning the horizon for pirates, however, we worried only about avoiding novice jet-skiers and towering mega cruise ships. We anchored in a calm inlet near the city walls of Old San Juan and swam in the warm turquoise-blue waters, followed by my daughter's first time on a wakeboard (she's now hooked). The highlight, of course, was when I got to take the wheel and zoom across the bay—a welcome dose of medication for my boat fever.
Another highlight was a tour of the El Yunque Rain Forest, which we arranged through the tour desk at our hotel. El Yunque is a world away from Puerto Rico's sandy Caribbean beaches. It is lush and green, and filled with dazzling waterfalls and mountain views. Our guide, Janilla, was comedian, historian, naturalist, photographer, and mother-hen all rolled into one, informing us about the local flora and fauna and island culture and history, all the while keeping us on schedule. She also guided us to a roadside stand for lunch, where we enjoyed conch fritters, roast chicken, and pasteles, which is a Puerto Rican Christmastime treat of root vegetables, meat, and plantain, all wrapped in banana leaves.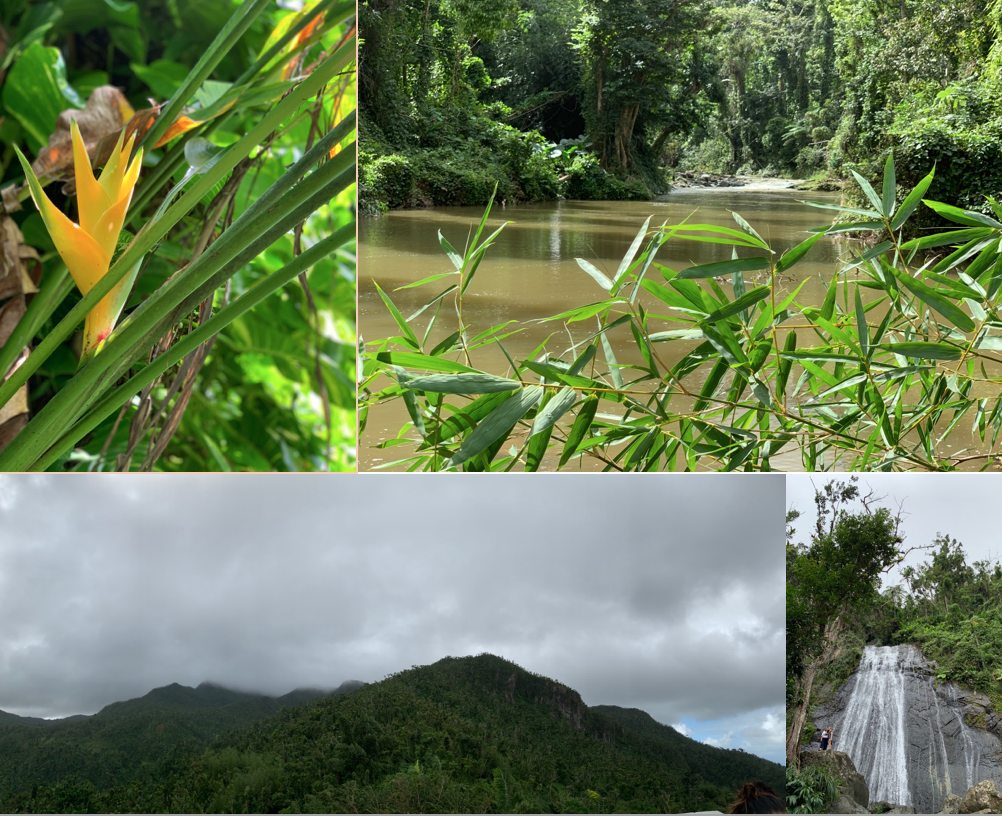 Wining and Dining:
Excellent food options abounded. Highlights included a chocolate brunch at Chocobar Cortés, which features Caribbean-farmed chocolate in every dish. We devoured the chocolate French toast, churros with chocolate sauce, and I treated myself to chocolate milk spiked with Puerto Rican rum (yum!). For dinner, most of our best meals were a quick Uber-ride outside of the touristy Condado beach neighborhood. Musa Gastro Pub features a wide selection of delicious cocktails and gourmet riffs on traditional Puerto Rican fare. It was also kid-friendly with excellent service. Asere Cubano was in a vibrant neighborhood filled with bars and live music. The chef served up a whole fried red snapper, killer empanadas, and coconut flan for dessert. Oceano was memorable for its food, service, and atmosphere. We sat on a terrace overlooking the ocean, watching the glittering lights of cruise ships travel east along the Puerto Rican coast. Enjoying Atlantic shrimp while listening to waves crash on the shore and breathing in the salty ocean air was my version of perfecto.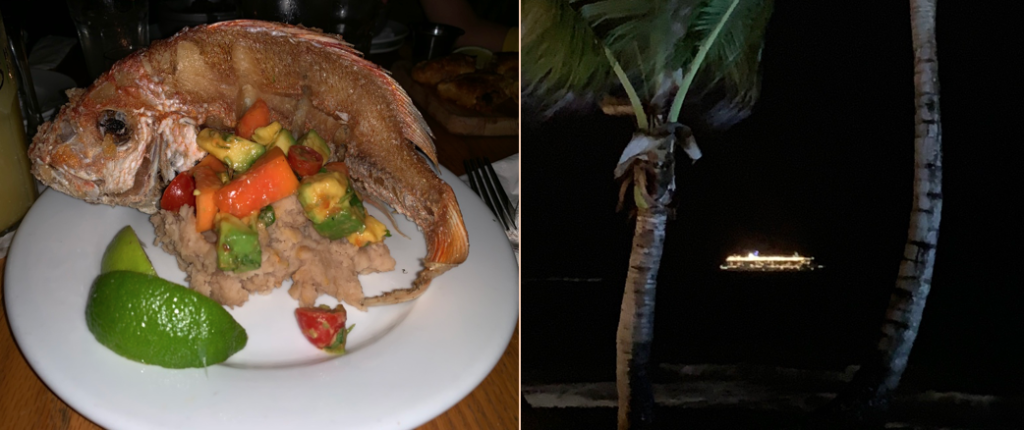 Travel Tips:
If you're staying in the Condado beach neighborhood or Old San Juan, there's no need to rent a car at the airport. Everything we wanted to see and do was a quick, reasonably-priced cab or Uber ride away, and parking on the beach strip was expensive- $25/day at our hotel.
Eating out three meals a day will kill your vacation budget. We stayed at La Concha in one of the tower suites. Although the room was slightly more expensive, the kitchenette allowed us to buy groceries locally and eat breakfast in the room. I also packed our suitcase with breakfast and snack staples from home, including chocolate-chip banana bread, homemade focaccia, and Clif Bars. Some days, we also reheated our dinner leftovers for lunch, and we bought a tub of ice cream at the grocery store, instead of buying ice cream for the kids at restaurants.
La Concha was a great place to stay, with two infinity pools (one was adults-only) overlooking the ocean, and a wide expanse of beach just steps from the pools. In the evening, there was live music at the hotel bar and a DJ. La Concha was also a short walk away from groceries, coffee houses, pharmacies, and multiple eateries.
All-in-all Puerto Rico offered an excellent balance of beach-time, hiking, food, culture, and history (as well as a welcome respite from the cold, dark environs back home). Adiós San Juan . . . at least until next time.