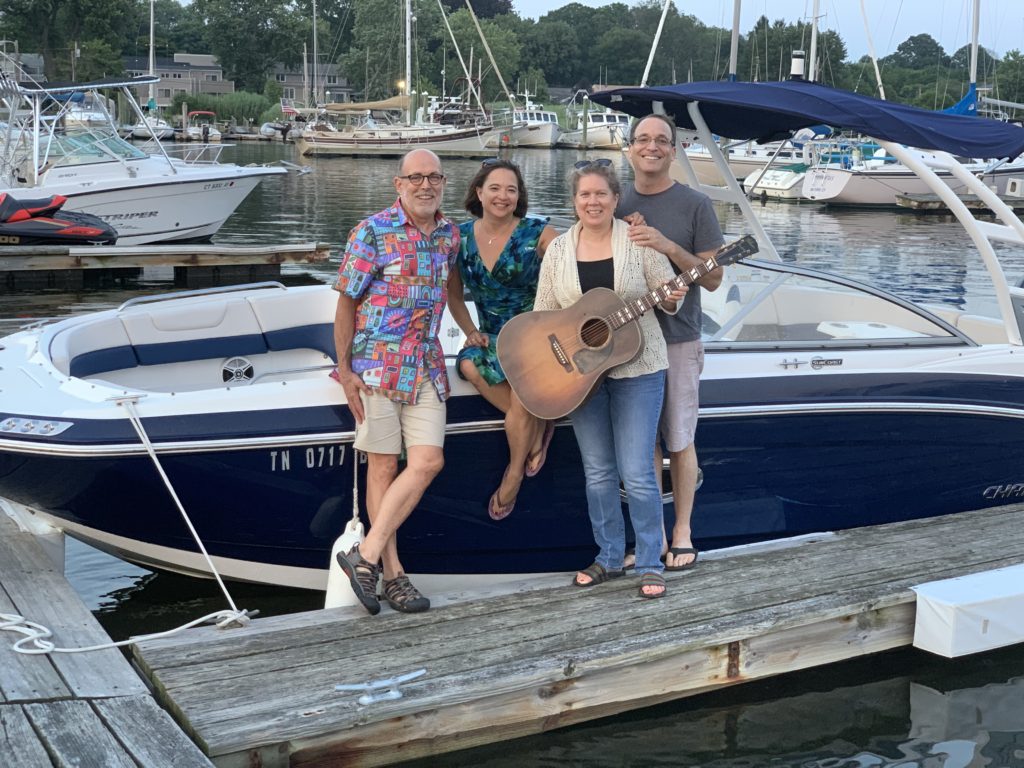 Music and motion go together. You might still recall that first time your dad (or mom) handed over the car keys. Perhaps it was a sultry summer evening. You rolled down the windows, cranked the stereo, and simply drove, headed nowhere, just to feel the elation of being truly free for the first time ever.
Speeding along at the wheel of a fast boat with good tunes and good company evokes that same sense of freedom. And I cannot believe that I'm alone. So many songs evoke the ocean, from the obvious candidates, like Billy Joel's Downeaster Alexa, to the more subtle— Be Still, by The Killers, for example.
Live music on the water is a rare but special treat. Last summer, Sarah Wise entertained us with her original single, Hang Tight, which we filmed for my Facebook page. This summer, author / musician / lawyer John Thomas treated us to a jam session on his 1943 Gibson Southern Jumbo guitar. The guitar has a long, long history. The venerable old instrument made it back from the trenches in Europe after World War II. More recently, it has traveled across the globe to Greece and Mexico. David Crosby has strummed it.
And now . . . drumroll . . . the guitar has been on a sunset cruise up the Housatonic River in Connecticut. Perhaps an evening outing on The Lucky Shucker was not the guitar's wildest adventure–it survived a world war, after all– but it was a new experience, all the same. I'm just grateful that I managed to keep our valuable cargo from jumping overboard as we tackled some decent-sized waves enroute to the mouth of the river.
Once we hit calmer waters, John regaled us with tales of meeting the women who built the WWII-era guitar. When the men went off to war, women took over at Gibson's factory in Kalamazoo, Michigan. The women, whom he interviewed, described working on the factory floor, as well as their lives during a time of shared sacrifice and common purpose to defeat evil- a mindset that seems to have vanished entirely from our fractured society today.
John preserved the women's stories by turning their interviews into Kalamazoo Gals: A Story of Extraordinary Women & Gibson's 'Banner' Guitars of WWII. The female-built guitars are known for having superior sound and quality. The craftswomen had no formal training in woodworking or guitar-building, but their years of experience with needlepoint, sewing, and other traditionally female handicrafts made them exceptionally skilled at the delicate finishing work that makes the guitars special. As a former seamstress, their tale certainly resonates with me.
As the sun dipped low over the shoreline, we headed home, accompanied by a different kind of music: the song of the wind and the waves with the hum of the engine keeping time in the background. As folk singer Dar Williams puts it: "there will always be the light and the sea . . ."